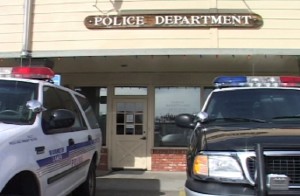 Mammoth Police have identified a suspect in  four burglaries that took place in Town between midnight Sunday and 6am Monday morning.
Officers said that the suspect broke windows and entered the Dollar Store, Nik'N Willies, Schat's Bakery and the Rafters.  Police said the burglar was apparently after cash only. Some of the businesses had secured their cash drawers, but in one case the suspect took an entire locked cash drawer.
Owners of the stores were still working on determining what exactly was taken.  Officers said a key element in this crime was the fact that three out of four of the businesses burglarized had video surveillance equipment.  Police reviewed the images and identified the suspect as Cameron Puckett, 27.  He is described as 6'1″ tall, 180 pounds, with a buzz cut.  Police were looking for Puckett at last report.
Another unrelated burglary took place in a Mammoth Lakes home.  Officers said that a person entered an unlocked house while the resident was there, asleep.  The burglar took a lap top computer.