Four Lone Pine residents have been charged with allegedly embezzling over $100,000 from the Lone Pine Indian Education Center.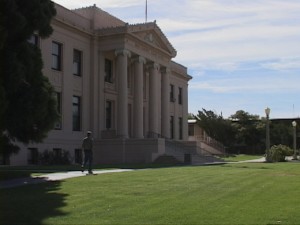 The Inyo District Attorneys Office reports that after over a year of investigation, former Director Gary Donnelly, bookkeeper Mary Donnelly, bookkeeper/office manager Mary Jefferson, and the assistant to the Director Sara Jefferson, were arrested on charges of grand theft by embezzlement and credit card fraud.
The District Attorney Art Maillet alleges that over a period of six years, the defendants conspired to use credit cards from the Indian Education Center for their personal use. Mailett alleges that the defendants misused credit cards to buy items that had no connection to helping young students with their education endeavors.
The District Attorney says that the evidence will show that the credit cards were used to buy household furnishings and clothing from departments stores like Lowes, Home Depot, Costco, J.C. Pennys, and a long list of other retails chains. The defendants also used the cards to pay for Direct TV, XM Radio, and Verizon, according to the DA. All told, the DA alleges that the defendant took over $100,000.
The complaint alleges 12 felony counts of Grand Theft by Embezzlement, 12 felony counts of Credit Card Fraud, one count of Possession of Stolen Property, one felony count of Conspiracy to commit the crime of Grand Theft by Embezzlement and Fraudulent use of a credit card, and one misdemeanor count of destroying evidence. The complaint also lists two enhancements for the embezzlement allegedly being over $100,000.
The DA reports that the investigation went on for over a year and was hampered by missing and/or destroyed records. Investigators from the DAs office had to initiate ten search warrants to get and reconstruct records of the Indian Education Center. Gary Donnelly and Mary Donnelly have been arrested. At last word, Mary Jefferson and Sara Jefferson had outstanding warrants but had yet been arrested. The District Attorney reports that investigations continue as there may be other suspects involved.