Four of those injured in last Monday's horrific three-car accident remain hospitalized. The CHP Major Accident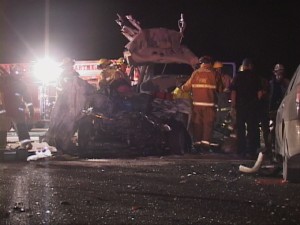 Investigation Team continues with their investigation into the exact cause of the wreck.
Local and statewide news media covered the accident which involved student athletes from southern California in both vehicles primarily involved. Witness reports said that an SUV southbound veered off the highway to the right and then rolled over to the left, bursting into flames and hitting an oncoming van head-on. The driver of the van died as did two in the SUV.
CHP Officer Dennis Cleland said that all but four of the victims have been released from various hospitals. Three survivors from the SUV remain hospitalized, including Derek Thomas in West Hills Hospital, Drew Dellis at UC San Dieo Burn Center and John Adams in Renown Medical Center in Reno.
Mammoth Lakes Recreation Manager Stuart Brown said Adams is one of his best friends. The CHP said Adams is in stable but critical condition.
A student from the van, Rebecca Trupp remained improving in Renown.
Officer Cleland said CHP investigators are close to a conclusion about exactly how the accident happened. They still need to speak with occupants of the SUV, who have been unable to talk due to medications and surgeries.