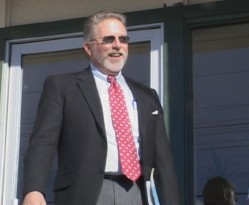 Former Inyo County Public Defender, Attorney Gerard Harvey now faces 5 felony charges, filed by the District Attorney's Office.
Inyo District Attorney, Art Maillet, issued a press release to confirm actions by his office. The release says that the DAs office filed three charges of witness intimidation, one felony count of making criminal threats, and one felony count of threatening a witness who provided assistance to a law enforcement officer and public prosecutor in a criminal court proceeding.
Harveys public defender contract with Inyo County was cancelled following his arrest on these allegations. Harvey had earlier faced arrest for alleged being under the influence. He had entered a re-hab program and was continuing to perform public defender duties when the latest charges surfaced.