Jon Sweeny spent many years as the Mammoth Lakes Fire Chief. He retired in 1992 with many friends and colleagues in the fire fighting business. He died February 22 at his home in Oildale.
Sweeney graduated from Christian Brothers High School in Sacramento. He attended American River College in Sacramento and then served in the U. S. Navy two years active duty and four years reserve. After his discharge from the Navy, John became a full time California Department of Forestry Fire Fighter. He promoted quickly through the ranks and spent 37 years in the fire service, retiring as Fire Chief of the Mammoth Lakes Fire Department in 1992. He had been an integral part of the Mammoth community.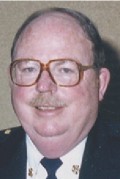 Sweeny stood at the helm during the frightening Rainbow Fire that threatened to burn the Mammoth Lakes community. His leadership and cool saw the town through the terrifying fire. After he retired from Mammoth Fire, Sweeny worked as a part-time chief administrator for the Long Valley Fire Department. His family said that Jon was not only a highly respected member in the firefighting community, he was also a loving and caring husband, father and grandfather.
Jon Sweeny is survived by his wife of 50 years, Margaret L. Sweeny; daughter Anne Sweeny; son and daughter-in-law Jon "Jake" and Teri Sweeny and grand children Nick, Jack, Brian and Megan Sweeny of Bakersfield; son and daughter-in-law Joe and Stephanie Sweeny and grand children Victoria and Sean Sweeny of Mission Viejo; brothers and sister-in-laws William and Mary Sweeny of Sacramento; George and nancy Sweeny of Culver City; and Robert Sweeny of Auburn.
His family said Jon loved to camp and fish, enjoyed his train set, wood working, watching movies and playing with his grand children. Even in failing health in recent years, Jon did his bet to remain positive. Sweeny's family extended a special thanks to Cindy Menser for her help and patience with Jon over the past several years; and to neighbors Lawrence and Marie Wheeler for watching over Jon.
A memorial service for Jon A. Sweeny Sr. "Chief" will be held at Riverlakes community Church Saturday, March 5, 2011 at noon.