ROBERT E. (BOB) MICHENER
1/23/1924 – 4/18/2015
Bob Michener passed away at his home on Saturday, April 18.  He was 91 years old.  Bob was born on January 23, 1924, to Robert Ezra and Elizabeth Mae Michener.  He attended Dorsey High School in Los Angeles and graduated in 1942.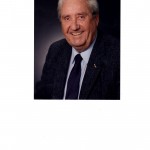 Bob proudly enlisted in the Marine Corps in 1943 during World War II.  He served until 1946, when he was honorably discharged as a Staff Sergeant.  He then attended Graceland Junior College in Iowa, where he met the love of his life, Wilma Hartschen.  The two graduated Graceland in 1947 and got married.
They decided to move back to California, where Bob then attended the University of Southern California.  He graduated in 1951 with a degree in Business Administration.  Bob then joined the LA County Sherriff's Department in 1951, and served until 1963.
At that time, he and Wilma had decided they had enough of LA.  They moved to Mammoth Lakes, a spot they frequently visited, to raise their 3 young children, Robin, Scott, and Jon.  Bob, with his outgoing personality, was always interested in public service.  While living in Mammoth, Bob served on the Mono County Planning Commission as well as the Mono County Board of Education for many years.
Bob and Wilma then moved to Bishop in 1979.  While living in Inyo County, he served on the Inyo County Planning Commission, the Inyo County Grand Jury, as well as a term as 3rd District Supervisor.
Bob is survived by his wife of 68 years, Wilma.  Daughter, Robin Fernandez, of Bishop.  Son, Scott Michener and his wife Sharon, of Orangevalle, CA.   Son, Jon Michener and his wife Vicki, of Bishop.  Brother David of Los Angeles, and Sister Peggy, of Oregon.
As well as Grandchildren, Kristen, Jackie, Torey, Garrett and Jake.  Great Grandchildren, Mason, Sadie, Taryn and Dylan.
A service will be held Saturday, May 2nd, at 11:00 am at the Church Of Jesus Christ Of Latter Day Saints at 725 Keough St. in Bishop.  A luncheon will be held immediately afterwards at the church.