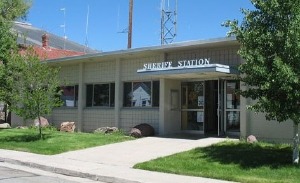 Mono County, represented by John Vallejo of the County Counsel's Office, petitioned Superior Court to set aside last February's arbitration decision in the termination of Deputy Jon Madrid. In a tentative decision, Judge James Garbolino ruled solidly against Mono County and included several quotes in his decision, highly critical of the Mono Sheriff's Department. He reaffirmed that Deputy Madrid is reinstated with back pay.
In a 19-page decision, Judge Garbolino declines to re-hear the case but reaffirms the arbitrator's decision with a very minor difference over a limited period of time for back pay. The arbitrator had found no wrong-doing on the part of Deputy Madrid and reinstated him with full back pay. The arbitrator had said that he found "serious abuse of discretion" by the Sheriff's administration when they fired Madrid and then called him back to sit in a chair in the lobby of the Sheriff's Department.
It all started in recent years, according to court documents, when Deputy Madrid filed a Hostile Work Environment complaint that accused Sheriff's Administration of abusive behavior. That complaint was never addressed, but after that Sheriff's men accused Madrid of incorrectly reporting work hours and taking unwarranted pay of around $382. The arbitrator found that evidence showed that Madrid did not intend to take that money for time off and that other deputies with discrepancies in pay sheets had been informed to correct them – not fired as Madrid was. Judge Garbolino finds that Deputy Madrid's termination was the result of "retaliation and that Deputy Madrid's subsequent reassignment to the status of a "greeter" was made solely for the purpose of administering punishment without legal or factual justification."
Judge Garbolino's decision recites Madrid's record as a 12-year Marine and qualified deputy with numerous duties and skills. Said the Judge, "The record supports the conclusion that Deputy Madrid performed his job meeting and exceeding expectations."
The Judge notes that Sheriff Rick Scholl had called Deputy Madrid back after firing him to make him work as a "greeter" as a form of punishment. The Judge's decision says there was evidence in the record that "certain Department managers that were looking for an excuse to have Madrid fired were harassing Deputy Madrid."
In footnotes of his decision, Judge Garbolino tells how Lieutenant O'Hara made comments that his "goal was to fire three deputies, including Jon Madrid." Madrid filed a workplace harassment claim against O'Hara in 2011, according to the Judge. The complaint went to then Undersheriff Ralph Obenberger. After that, according to the Judge, Madrid was accused of falsifying his payroll records. The Judge also said that Undersheriff Obenberger indicated he would not pursue Madrid's harassment claim and that it would "go away" if Madrid resigned. The Judge further stated that when the Undersheriff handed Madrid his notice of administrative leave, Madrid asked him again about the harassment claim "to which the Undersheriff replied, 'How the f—should I know?" This, according to Judge Garbolino, who was quoting court records.
The decision says six months later, Madrid was called back to sit in a chair with no uniform, badge or weapon. The Judge said, "His assigned duties were lesser than those of a WalMart greeter."
The Judge ruled against Mono County's petition that tried to assert that the former arbitrator exceeded his scope of jurisdiction and in favor of Deputy Madrid, with a minor difference in back pay. Madrid was also awarded costs and attorneys fees.
In a related matter, former Deputy Madrid has also filed a suit against Mono County in federal court. Reports indicated that Sheriff Obenberger attempted to be removed from that case, but the court denied that request.