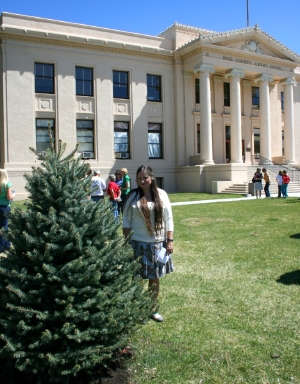 Recently, current Inyo County Clerk-Recorder Kammi Foote and other county officials gathered on the courthouse lawn to dedicate a blue spruce to retired Clerk Mary Roper and her years of service to the public. The tree replaced a much earlier tree that had blown over and died. We will include below Mary Roper's comments at the dedication:
"It was my pleasure to serve the people of this County. I never saw my position as 'just a job'. It was a mission for me and I never forgot who I worked for. There is a reason it is called 'public service'.
That is why I was so thrilled when I heard about this tree planting in my honor. The wonderful thing about this honor is that this tree will also be engaged in a 'public service' of sorts. It will go on giving to others for years to come ~ it will give of its beauty to all of the visitors that drive through Independence, and, of course, to the residents and employees of Inyo County. Eventually this little tree will provide shade for the annual Fourth of July Parade. It will mitigate the unfortunate loss of the original Blue Spruce and make complete again the historic landscaping of our beautiful courthouse.
The planting of this tree serves as a perfect way to honor all dedicated 'public servants', past and present.
I find myself reciting out loud the first line of Joyce Kilmer's Poem when I see an especially beautiful tree…I never remember the rest of the verses …but the first line captures my thoughts perfectly:
'I think that I shall never see a poem lovely as a tree'
I'm sure most of you think that the poet, Joyce Kilmer, was a woman. He was not. He was a soldier in the United States Army and was killed in action by a sniper during World War I in France. He was only 31 years old. He wrote the poem, 'Trees' when he was 26 years old… he obviously was a 'tree hugger'. Sometimes it takes courage to embrace the natural world, and 'tree hugger' has become a term that is intended to marginalize those who take a stand. Joyce Kilmer was honored posthumously for his bravery in battle, and 'Camp Kilmer' in New Jersey was named after him.
So, I am proud to announce I am also a 'tree hugger'! and I am in good company with all of you!
I want to thank everybody that has come today to watch this little tree go into the ground. Now go hug a tree."