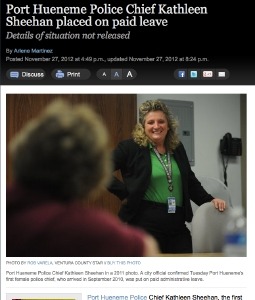 According to Ventura County media, Former Bishop Police Chief Kathleen Sheehan who had taken the job of Port Hueneme Police Chief, has now resigned amdist some type of investigation.  The Ventura County Star reported this week that Sheehan was placed on paid administrative leave in November and city officials hired an outside firm to "investigate her behavior."  The report said there were allegations that Sheehan "violated city policy on issuing carrying concealed weapon permits, secretly recorded confidential conversations with city officials and improperly participated in dismissal of a parking citation."
The news reports said Sheehan resigned effective December 4th with a 14-page severance agreement signed by city officials and Sheehan.  The agreement reportedly says the city will pay Sheehan a lump sum of nearly $76,000 which is the equivalent of six months pay.
Although details about conflicts between Sheehan and Port Hueneme officials are scarce, the Ventura County Star did report that Sheehan and the previous city manager had clashed over Sheehan taking authority from the Sheriff's Office to issue weapon permits. The news report said she did issue permits to the mayor, a councilman and three police chaplains.
Sheehan, who left Bishop in 2010 with high praise from the city council, was the first female chief in Port Hueneme.  She worked as chief in Bishop for about three years and before that 25 years with the Los Angeles Police Department where she reached the rank of lieutenant.
At least two members of the Port Hueneme City Council and other officials praised Sheehan's work as police chief.