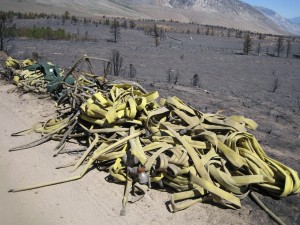 Because of the mountainous and winding terrain in the Bishop Creek drainage, damage from the Forks Fire is not always obvious, but a trip up into the area behind the Buttermilks reveals scorched earth and moon-scape scenes.
At last word, the fire was nearly contained and firefighters started to head to other areas of the state on fire. Crews from many areas had rushed to Bishop to stop the rapidly moving lightning fire. A switch to higher humidity, lots of hand crews, 8 air tankers and helicopters shut down the fire advance.
Daily fly-overs of the Sierra will reveal any new lightning fires. The one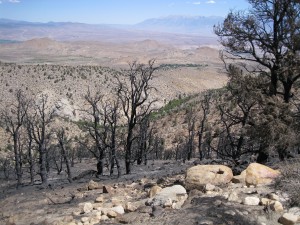 southwest of Aberdeen, the Black Jack Fire, does continue to burn and show smoke from Highway 395.
(Photos: Ted Gardner. Lower right shows community of Starlite in the distance with fire in foreground.)