Progress on the Forks Fire containment continues. The Forest Service called the current situation the final suppression efforts.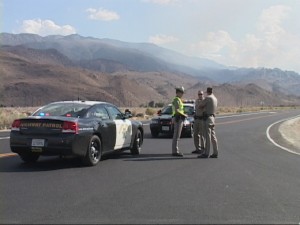 The mastery of the more than 3,000 acre fire led to the re-opening of Highway 168 and lifting of voluntary evacuation orders. The Forest Service announced that as of 5pm Tuesday, the Bishop Creek Recreation Area was set to re-open to the public. Authorities also re-opened Highway 168 to all traffic. Finally, officials lifted the voluntary evacuation order for Starlite residents.
Along with these openings, all campgrounds were slated to re-open except for Bitterbrush Campground, which is currently being used as a staging area for the fire suppression efforts. Officials also cautioned that even though Highway 168 re-opened, all drivers were urged to proceed with extreme caution and to watch for falling rocks and debris from the burn area.
The Forest Service did say that dirt roads that access the burn area will remain closed to all access while suppression efforts continue and needs for burned area rehabilitation are being assessed. The Forest Service also asked for caution due to emergency vehicles still traveling and parking alongside the highway.
Meanwhile, another fire continued to burn to the south. The Forest Service said a small lightning-caused fire continues to burn southwest of Aberdeen within the bighorn Sheep Zoological Area in the John Muir Wilderness of the Inyo Forest. The Forest Service has not pursued the suppression of this fire, known as the Black Jack Fire, but will monitor it. Smoke from this fire remains visible from Highway 395 and may continue to do so for another month as the fire slowly moves through a heavily timbered area of upper elevations.