Take one big fire and add humidity and manpower. For the Forest Service attack on the Forks Fire in the Bishop Creek drainage, extra moisture and fire fighters seemed to turn the tide. John Louth of the Forest Service said that the fire stopped in its tracks and were digging a line around it. Other sources said that some mandatory evacuations would be lifted Tuesday morning.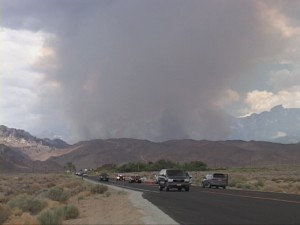 At last report, the fire was 60% contained, according to Louth, who also said that about 3,268 acres have burned and 424 hand crews remained hard at work. Louth called the fire fighting accomplished Monday excellent progress.
As many as 10 hand crews were cutting lines around the fire. Louth said the crews develop a cadence that seems almost choreographed. The result a 4 to 6-foot-wide line to stop the fire. Louth called these workers well-trained with strong leadership.
The Forks Fire was apparently started by lightning and it burned from above the Intake Two campground north toward the Buttermilks and Starlite. Initially, several campgrounds and the community of Aspendell were evacuated. The Forest Service announced that the mandatory evacuation of the Bishop Creek Canyon Recreation Area would be lifted Tuesday morning at 10am for business owners, special use permit holders and residents of Aspendell and South fork. The Forest Service added that it is anticipated that Starlite would remain under a voluntary evacuation. Forest Service spokesmen also said that the public would be allowed to enter the Recreation Area Wednesday or Thursday of this week.
Highway 168 West was closed at South Lake Road turn-off on Saturday. Officials say that public safety and fire crews mobility are considerations in the decision to re-open Highway 168 to the general public. Officials underscored that even though there is not much smoke visible from the fire, there are still a lot of hot spots and open line with potential flare-ups at any time, particularly if erratic winds accompany more thunderstorms.
A Type II fire team from Southern California is managing the Forks Fire. They are trained for this type of large operation. Air tankers and helicopters continue to support engines and hand crews.