The often controversial bear program in Mammoth Lakes opened a new chapter of misunderstanding with the Forest Service over how Steve Searles can do his job of bear management in Forest campgrounds.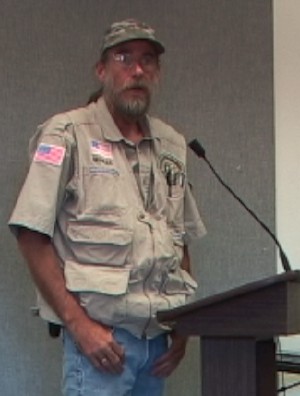 Some of those present at a recent meeting over the bear program and forest jurisdiction confirmed that a Forest law enforcement officer said if one of the other officers had seen Searles in Shady Rest Campground at work hazing bears, she would have shot him.
Deputy District Ranger for Mammoth and Mono Lake Mike Schlafmann disagreed and said that the officer instead said if Searles were not identified, they would take appropriate action. These remarks typified the recent head-on collision with Forest regulations and Mammoths Bear Program. Schalfmann said he believes the officer only wanted to make sure Searles was known to them and properly identified. Even though Searles has conducted bear management for many years, the Forest Service only recently became aware of his work done in Forest campsites.
Schalfmann said that some had recommended Searles receive a citation for hazing bears in Sherwin Creek Campground. Schalfman said, We decided not to do that. We want to work this through. He said he is trying to work out options. The Deputy District Ranger explained that the problem is Searles is not a law enforcement officer and so not allowed to operate firearms, even the hazing guns, in a Forest campsite.
So, now Searles can go into a campsite but must have a Mammoth Lakes Police officer with him or a Forest Law Enforcement officer. Schlafmann admitted this might delay Searles response. I recognize that hazing is important, said Schalfmann. He hopes to arrange another meeting with Town officials over this issue. Our goal, he said, is to assure public safety and Steve Searles safety and comply with federal law.
Apparently Town of Mammoth officials did not talk to the Forest Service about the bear program before they signed a deal with Searles.