Did the Forest Service respond to the Whitney Portal fire Tuesday night? That question has prompted an array of answers in Lone Pine and in other towns. Nancy
Upham, Public Information Officer for the Forest Service, offered some details.
Upham said that word of the fire went to the Inyo Sheriffs Dispatch around 9:30 Tuesday night. The dispatcher called Cal Fire to respond and called the Forest Service dispatcher. Upham said that the Forest Service dispatched Engine 14 from
Lone Pine and a BLM engine.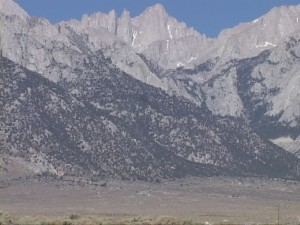 Upham explained that it took the Forest Service about an hour and fifteen minutes to get to Whitney Portal. Lone Pine Fire Volunteers had responded immediately on the belief that the Forest Service wasnt coming.
Upham explained that it takes time to round up a crew and drive to the site. "Our engine crews dont stay on site," said Upham. "So, we have to round them up." Upham said there is a protocol of 2 hours to respond in the evening, depending on the location of the fire.
Upham was looking into reports that somehow word got around that the Forest Service wouldnt respond at all. They did respond and arrived on scene at Whitney Portal at 11:15 pm. By then, Lone Pine Fire had pretty much knocked down the blaze.
Upham said both Cal Fire and the Forest Service stayed at the fire site all night to make sure nothing flared up.
The incident has prompted some concerns and efforts to communicate over response to wildland fires.