A new motorized staging area – that's the goal of a new Forest Service planning process at Shady Rest. A series of meetings will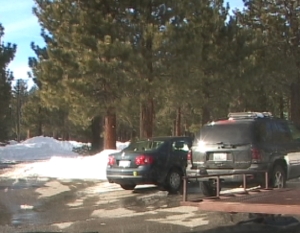 help the public to get involved.
Forest officials say that they received an Off Highway Vehicle grant from the State to support recreation planning at Shady Rest Park. The process will address year round motorized use while considering the needs of non-motorized users in the immediate and surrounding area and the potential impact of proposed geothermal development nearby. The goal of all this – to develop a new motorized staging area.
Information from the public meetings will help develop a proposed action released to the public. The first meeting takes place Thursday, February 10, on existing conditions, current uses and a needs assessment. Next Thursday, February 17, the meeting will focus on multiple uses and recreation development options. Another meeting Thursday, March 3, will deal with a presentation and review of recreation alternatives.
All meetings will take place at the Mammoth Lakes Ranger Station auditorium and begin at 5:30pm. The Forest Service expects the meetings to last about an hour and a half. For more info, call Forest Recreation Officer Jon Kazmierski at 924-5503 or email him at [email protected].