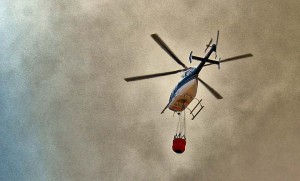 The so-called Monsoon season has pushed in thunder clouds, lightning and a bit of rain in the Eastern Sierra.  The Forest Service has sent planes and helicopters out and about to look for fire.  They found some but not a lot at last report.
According to Nancy Upham, Public Information Officer for the Inyo National Forest, the Forest Service had a fixed wing air attack plane up on Monday and helicopters too.  They were looking for fires started from Sunday's thunderstorm.
Crews were on a some five-acre fire in the Fish Creek drainage which is south of Devils Postpile.  It is actually in the Sierra National Forest and called the Lion Fire.  Upham said that the forest had helicopters working the fire and had ordered two air tankers.
Meanwhile, the Biederman Fire in the Bodie Hills reached a reported 18 acres as of Monday. Upham said handling of that fire is looking good.  In other areas around the forest, there are scattered single tree fires with crews on them to make sure there is no spread.