Forest Serivce crews, working to clean-up after the Forks Fire in the Bishop Creek Drainage, are asking people who drive through the burned area to stay on roads that existed before the fire started.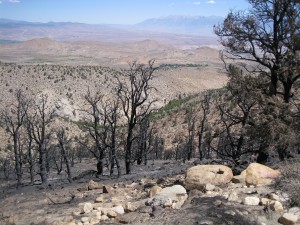 The Forks Fire, which started on July 18, burned over 3000 acres of Pinyon and Jeffrey Pines along with sage and other brush. A significant portion of the fire area burned at an intensity that consumed all the brush and killed stands of trees, leaving the land in a fragile state.
For now all roads that existed before the fire remain open to those who want to drive up to take a look, or access the land around the burn area like McGee Creek and Grouse Mountain, but Forest Service Staff ask that you stay on the roads that existed before the burn. Mop-up crews are working to re-hab the new fire line and firefighter vehicle tracks, but Hennesy reports that people might follow these new fire lines in a vehicle by mistake or for fun. It can be confusing, she says.
The native plants are expected to recover well on their own, but staff says that vehicle use off of established roads in recently burned areas has been proven to reduce native vegetation re-growth and encourage weed infestation.
Mary Beth Hennesy with the Inyo National Forest explained that wind and rain can move the soil and ash very easliy into streams, so there are erosion concerns as well.
So far there hasnt been a problem, but Forest staff report that if they detect that vehicular use is occurring off of designated roads, the staff will consider more restricted use or possibly closure of the Forks Fire burn area.
For more information please contact Mary Beth Hennessy of the Burned Area Emergency Rehabilitation team at 760-873-2404.