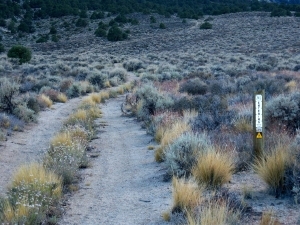 With more Forest Service meetings on roads lately, members of the public have reported concerns about more road closures. Marty Hornick, Acting Public Affairs Officer for the Forest Service, assured that the recent two meetings on roads were not about more closures but about restoring already closed roads to a natural state.
Sierra Wave Media heard several times from citizens that they believed the Forest Service would close 480 more roads. Asked specifically about that figure, Hornick said, "We are not closing anything in addition to what was closed under the earlier Travel Management Plan. Hornick said that currently there are three projects proposed to deal with roads closed in 2009.
He said the Forest Service has or will disguise or barricade these roads. He said crews have or will go out to every single route to also see if some of these roads should be opened. He said that so far three additional miles or ten routes will be re-opened. Hornick said, "There are a few small segments closing but we are opening many more based on field reviews." He repeated that there are no additional closures.
Hornick admitted that he knows some people have misunderstood the intent of the current projects. Feelings do run high over Forest policies to close routes. In fact, some have ripped out barriers placed on closed roads. As more than one resident has said privately, "The Forest Service approach to road closure is terrible."
Again, the projects about to take place now, according to Mr. Hornick, are about naturalizing already closed roads. More will apparently be discussed about these projects at a meeting of the Mono County Collaborative Planning Team next Thursday, February 28th at 9am at the Town/County Conference Room in Mammoth Lakes at the Minaret Village Mall.