A forensic technology first, but perhaps the last of any digs to look for Manson Family victims.
The big dig at Manson's old hideout, Barker Ranch on the edge of Death Valley, turned up no evidence of human remains. Cadaver dog response and scientific tests raised questions about potential bodies at Barker. That's when Inyo Sheriff Bill Lutze made the decision to do a limited dig.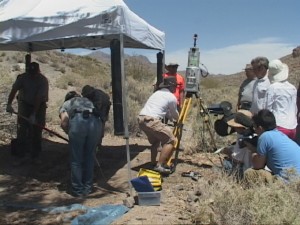 Men and women from the Inyo Sheriff's office, Oakridge National Lab and the Utah Attorney General's Cold Caase Unit converged on Barker. They used tools as rudimentary as shovels and as sophisticated as laser beams and other high tech detectors. Major media outlets from all over the world sent representatives. Sheriff Lutze required pool reporters to limit the number of media at the Ranch.
Marc Wise, Senior Research Scientist at Oakridge National Lab talked to our Cleland Hoff about a special tool to detect human decay. (Photo: Cleland Hoff)
After two days of blistering heat and high winds, the crews had gone through five sites and found no human remains either in or around the five areas of interest.
Inyo Sheriff Lutze made the announcement to national media gathered aqt the site. Sheriff Lutze did say that they learned a lot about forensic technology and that if such tools were needed again, his people are trained and know where to get them.
Sheriff Lutze said that investigators and scientists used portable ground penetrating radar, magnetometers, lasers and Alternative Light Sources to look for remains. Crews found nothing.
It was Mammoth Police Sergeant Paul Dostie and his cadaver-trained dog Buster that checked out the Barker Ranch site and believed bodies may have been buried. Dostie and Buster were at the site during the dig and helped with a shovel.