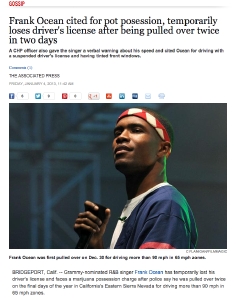 "From city halls to county courthouses, from the State house to the White House – bureaucrats control our lives.  Public servants who often try to become our masters.  People whose salaries we pay, but what goods and services do we get?  On Sierra Wave's Bureaucrat Beat, we'll report what they're up to."  That's the Bureaucrat Beat declaration of dissatisfaction, but as you may know, Bureaucrat Beat talks about so much more.
What's up with this?  Seems like everywhere I look, there is the name Frank Ocean.  Yeah, the guy stopped twice over New Year's in the Eastern Sierra – speeding, suspended license, marijuana.  Then, there's his name again in The New Yorker in a story about an attempt to establish a music festival on a luxury cruise liner.  Musicians included, you guessed it, Frank Ocean, along with Radiohead and the Shins.  Then I start to review a CD of the 2013 Grammy nominees.  Yep.  He has a pleasant voice but the hip-hop thing eludes me.  Maybe Frank Ocean was there all along, and I never noticed until he made our police beat.
People around the nation notice Sierra Wave.  Since we started to stream the radio station, someone in Oregon emailed to say they used to live in Bishop and they still listen to Bob Todd in the morning.  As this person said, "Good music and a real radio personality!"
Someone else noticed old Christmas Trees headed to Buckley Ponds.  Yep.  A project of Dick Noles to help create under water habitat.  People are doing this in many places.
People in the Mammoth business community recently resorted to political drama at a planning commission meeting when Steve Klassen pulled out a pair of boxing gloves and challenged Phil Hertzog of Mammoth Outdoor Sports to a fight.  Klassen was clearly miffed that Hertzog had asked the commission to extend his Rail Jam special event for several more months.  They didn't.  Police Chief Dan Watson kept a wary eye on the whole thing.  Business is war, folks.
The Bishop City Council members have not turned into Drama Kings and Queens, but some have once more questioned the somewhat schizophrenic way the Council handles agenda items.  They talk about them and hash them over at 4pm study sessions and then reconsider them again at the regular meeting that night.  Deliberation without public participation?  That's the risk.  City Administrator Keith Caldwell said the City would consider televising the study sessions as they do council meetings.  He also points to the fact that study sessions are public meetings and they give staff a chance to answer questions before the prime time regular meetings.  We in the Bureaucrat Beat Newsroom feel that deliberation and decisions should take place at the same time and place.
Is it time to manufacture and use drones all over the place?  A feature article in Time magazine reveals that's already happening.  The U.S. uses the targeted, un-manned drones to kill terrorists, mostly in Pakistan.  Innocent bystanders lose their lives as well.  But the drone technology serves other uses.  Law enforcement can track suspects, farmers can spread pesticides and look for other problems without walking all over the back forty, as they say.  We found out that the Inyo County Sheriff's Office sometimes has access to drones, if they're available, to help look for search and rescue victims.  China Lake Naval Weapons Center provides the drones.  That's a good thing.
Not so good, the prospect of drones spying on Americans.  This whole alleged need to know things about Americans' private lives has gone too far.  The government can look at our emails if we appear to hang out with the wrong people and now send robot aircraft into our private property to see what's up.  This does not bode well.  Ethics have to keep up with technology.
Good luck with another trick invention – the creator of Twitter has come up with a new company to reinvent how we pay for stuff.  It's called Square Wallet.  iPhone to iPad, for example.  Customer walks in with an iPhone and a payment app.  Store owner has the other component.  They talk to each other and extract money from your credit card or bank account.  OK.  I guess we all thought credit cards were new-fangled when they came out.  But what if somebody steals your app?  Try not to think about it.
Don't think too much about this one either.  The Pakistan government will build an amusement park near the former hide-out of Osama Bin Laden.  No, they won't call it Osamaland, but they will build a zoo, paragliding club, water sports facilities and cultural heritage park.  Cost?  $50 million.  I wonder if that comes out of the jillions in aid spent by the U.S. in Pakistan?
Back in the good old U.S., the Los Angeles Times story on LADWP's resolution of three fights that it picked was documented in a well-written and interesting story.  The headline, however, must've been submitted by DWP's PR department.  "Truce in 100 years' war."  Really?  LA sued Mammoth for their water rights last year.  40 acres has fought for awhile as has Mono Basin, but the real 100 years' war is in the Owens Valley where all surface water goes into the aqueduct and a great deal of groundwater too.  There is no truce here just painful and ongoing disagreements.
Inquiring minds also want to know who put James Enstrom, Ph.D. up to an alleged organization called IRATE.  Enstrom, according to Source Watch, "has accepted funding from the Philip Morris tobacco company' and other industry groups and then "published research that contradicted scientific consensus about the health effects of secondhand tobacco smoke."
When the U.S. Department of Justice sued tobacco companies, a judge ruled against them and, in part, sited a study done by Enstrom as a significant part of the tobacco companies' ploy to deceive the public about the health effects of smoking.  Enstrom has also been criticized for his conclusions that particulate matter (like the Owens Dry Lake dust) does not hurt people.  Anyway, his new group, IRATE (Irate Ratepayers Against Ted's Empire) attacks APCD Director Ted Schade.  Enstrom's rants sound like the DWP playbook.  Bottom line – Schade is enforcing law on the books and in agreements LADWP signed.  As one onlooker put it, "That might be why someone unleashed this for-sale scientist on Ted, with an attempt to obfuscate the facts and laws." End of story.
And, with that, this is Benett Kessler signing off for Bureaucrat Beat where we await your word on our lives in the Eastern Sierra and beyond.