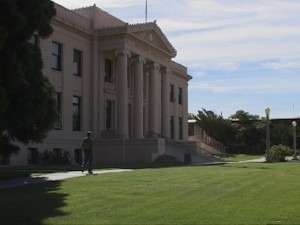 For men only?  That's what two trustees of the Deep Springs College board have claimed in the face of a decision by the majority of the Board to admit women to the college for the first time since its founding in 1917. National media will likely turn an eye on this gender-based, legal issue.
The case now unfolds in Inyo County Superior Court. The dissenting trustees are alumni Kinch Koekstra and Ed Keonjian.  They filed an objection to Deep Springs' petition to the Court to modify the college's deed of trust to permit coeducation.
Dave Hitz, Chair of the Deep Springs Trustees had stated that times have changed.  He said Deep Springs founder L.L. Nunn wanted students to train and become leaders in society.  In 1917, women could rarely play that role.  Now, they do.
Hitz earlier said, "Most trustees believe that effective training must include women and men working together."  An extensive process included input on this issue from hundreds of people before the Board voted.  A transition committee went to work to bring in female students in 2013.
The status conference in Inyo Superior Court is scheduled for June 22. The objections of the two trustees are stated in court documents.  One brief says, "The purpose of the Trust is limited to the education of 'promising young men.'  The Trustees are legally (and morally) bound to carry out the purpose of the Trust."  They allege that the Trustees have no legal basis to alter L.L. Nunn's Trust establishing Deep Springs.
Board members who support coeducation quote L.L. Nunn's trust which states that they do have the authority to make changes if they would "better carry out the purpose of the trust." The Trustees point out that changes allowed are not limited to single-sex situations.  The Trustees believe that Mr. Nunn's expectations were that the Deep Springs education work would "develop", evolve, and change over time.  That change will rest initially with Inyo Superior Court.