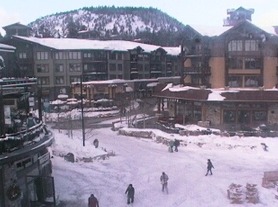 The doomsday talk of earlier Town Council meetings for now lies under a huge blanket of snow and the fact that tourists have packed the town for the holidays.
When the Town Council met earlier to vote in their government restructuring plan, they each debated what kind of year Mammoth would have in terms of snow and how much transient occupancy tax might flow into the Town coffers. With a base of 11 to 12 and a half feet of snow on Mammoth Mountain, the year looks good.
With all of its money problems and scraping together road maintenance funds to keep Whitmore Pool open, the Town of Mammoth could manage with more TOT. The latest occupancy figures for the holidays from Mammoth lodging say that from Friday, December 28th through Monday, December 31st, the Town is 96% booked. The figures showed 87% at the same time last year.
For the New Year's holiday, lodging says Tuesday, January 1 through Thursday, January 3, the Town lodges will be 81% booked. Last year, the number was 56%.
Put another way – Friday through next Monday, hotels, motels and Bed and Breakfasts will be 94% full and Condos, 98%. From next Tuesday through Thursday, hotels, motels and Bed and Breakfasts will fill up 81% and condos, 82%.
So, the obvious conclusion is snow makes it all happen in Mammoth. Is the economy better? Speculation continues on that one. No one doubts though that snow and lots of it do the job to market Mammoth Lakes. Local store owners report that the are slammed with customers and on their feet from early in the morning until late at night.