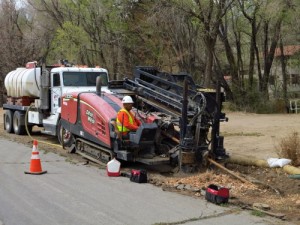 According to a California Public Utilities Commission notice, additional state funds may become available to complete the Digital 395 project in Inyo and Mono. A resolution that would provide more than $10 million in additional funds will go before the PUC September 5th.
This unique project links southern California with northern Nevada and beyond with a 583-mile fiber optic line through Inyo and Mono counties, along Highway 395. The project will give our region new and much faster internet service. The deadline for completion was to have been the end of July.
While the project is reportedly close to done, there is still some more to do to achieve complete connectivity, and apparently more money is needed. We could not reach Michael Ort of Praxis, the company overseeing the building of Digital 395.
A notice of availability signed by PUC Communications Director Ryan Dulin, says the PUC is poised to okay $10 million to complete Digital 395. The notice says the money would cover the costs of new poles or undergrounding fiber due to new requirements. The money would cover unanticipated costs involving permits related to environmental and cultural sites. The money would also cover "construction costs for the distribution backbone to connect anchor institutions, communities and other broadband providers." Administration and overhead costs are also included.
The draft resolution for additional funds is available for public comment, and must be served on all parties by August 21. Check out www.cpuc.ca.gov for more information.
$100 million of federal and state funds were originally granted to build Digital 395. As a new project of its kind, Digital 395 faced a reported $23 million spent on bureaucratic permits and regulatory processes with as many as 47 different agencies along the route of the 583-mile fiber optic line project.