FOR IMMEDIATE RELEASE  (Bishop Chamber of Commerce news release)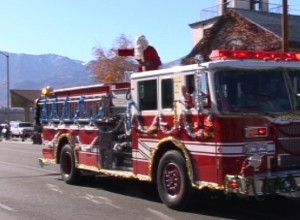 It may seem a bit early to be thinking of Christmas; however the Bishop Area Chamber of Commerce is already busy planning several events to ring in the holiday season.  They are seeking your participation.
On Friday night, December 6th, everyone is invited to the annual Tree Lighting Ceremony at the Bishop City Park.  Festivities will include hot chocolate & cookies, carolers and a visit from Santa!  Following the tree lighting, shoppers can get a great start on Christmas Shopping by taking a stroll downtown through the Street of Lights.  The popular Elm Street Band from Long Beach will be playing rock-n-roll Christmas classics, many businesses will be open late, and shoppers will have a chance to win great raffle prizes.
On Saturday, December 7th the annual Christmas Parade will celebrate the theme "Miracle on Main Street" and Gia Joy Gehringer will be the Grand Marshal.  After the parade, kids of all ages are invited to visit with Santa Claus in the gazebo at the City Park.
The Home & Business Decorating Contest will be a bit different this year.  It's free and easy to participate, simply give the Chamber a call to sign up or nominate a location.   They'll come out and take pictures and upload to the Chamber Facebook page.  Winners will be determined by "likes."
The Bishop Area Chamber would like to extend an invitation to all area businesses to join in these fun and important community events.
For more information or to sign-up, please drop by the chamber office at 690 North Main Street, or telephone April at (760) 873-8405.