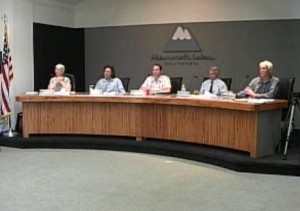 As expected, and as clearly planned, the Mammoth Town Council voted unanimously this morning at 10:20 to enter Chapter 9 bankruptcy. A filing will now go to a bankruptcy court. Mayor Matthew Lehman read a press statement in which the Council assures that public services will continue as usual, with support from other local agencies.
It was a tense hour in the Mammoth Town Council chambers. Officials and all those watching knew the somber decision that would inevitably leave the Town of Mammoth Lakes on the list of bankrupt California cities.
The enormous but obviously calculated decision started with Town Manager Dave Wilbrecht who thanked all staff who had worked to bring the Town to this point. He introduced Assistant Town Manager Marianna Marysheva-Martinez, who had largely handled this issue for Mammoth. She said, "Today is not an easy day for us. We have to make a significant decision." Martinez went through the chain of events – the mediations that had taken place as prescribed by AB506, State Bankruptcy Law.
Martinez repeated what, by now, everyone who has watched the issue knows – the Town remained severely wounded by a structural budget deficit of nearly $3 million and the crushing $43 million MLLA lawsuit debt. She explained how through mediation and other budget cuts the Town was able to balance the new fiscal year budget. She said that the Town had asked MLLA at least six times to participate in mediations, but the company refused. Much earlier, after many months of talks and then negotiations, MLLA had accused the Town of dealing in bad faith and declined further negotiations.
MLLA went to court and won a Writ of Mandate to force payment of the debt by June 30th. Then, MLLA had made a settlement offer of roughly $2 million per year for 30 years. The Town did not accept.
With the Court Writ and $43 million due now, Martinez said Mammoth could not pay today nor over 10 years, as allowed by State law. She said a 10-year plan would cost Mammoth around $6 million per year which, she said would decimate the municipality and force it to stop operating.
Martinez went through the consultants' study that said Mammoth could come up with just over $6 million in the next ten years or could use that money to pay for a bond to cover the MLLA debt. She pointed to the study that shows Mammoth citizens can not afford more taxes to pay for the debt. Then she introduced Zack Clement of Fulbright and Jaworski law firm. He said to the Council, "You do not have the financial capacity to pay the $43 million now or in ten years." Bill Greendyke of the same firm went through the mediation process which qualifies Mammoth to file for Chapter 9. He said that process was "authorized earlier this year." He called the mediations "very successful."
Clements told the Council that the "Town should be proud that it solved the deficit and freed up money for MLLA." He said MLLA was asked repeatedly to participate. "They simply did not come," he said. Clement said all of the facts brought him and his firm to ask the Council if they want their recommendation. After some silence, the Council said, yes.
"It is our recommendation," said Clement, "that you have no choice but to file a Chapter 9 case and bring it up in court how much you will pay MLLA." Clement produced a pre-prepared resolution and press release – evidence that the Council was prepared for the vote to go bankrupt.
Bill Greendyke said, "We believe the Town of Mammoth Lakes qualifies for Chapter 9 and that this is the only alternative for the Town regarding financial problems."
Councilman John Eastman made the motion to approve the bankruptcy resolution. Rick Wood seconded it, and the vote was unanimous. Mayor Matthew Lehman asked for public comment. There was none. He then read the prepared press release which already included the unanimous vote for bankruptcy. The press release repeated what had already been said by Martinez and the two lawyers, describing the painful process of budget cuts, employee pay cuts, and efforts to settle with MLLA.
The press release said that the Town can overcome its fiscal issues with a surplus of $500,000 per year or could use that money to pay for a bond to pay creditors. Mayor Lehman read from the release when he said, "MLLA failed to be part of this or to prove that we can pay the debt." He said the Town asks that the bankruptcy court process move quickly. "If it lasts too long," he said, "we can't recover."
Mayor Lehman assured that the Town is "open for business. The police, fire department and paramedics and Sheriff's Office will still deliver high levels of service." He said roads, parks and maintenance will move forward with all other county departments, including the airport.
Lehman made it clear that Mammoth Hospital, Mammoth Community Water District and Mono County are not part of this bankruptcy. The meeting was then adjourned to the next regular Council meeting on July 18th.  (Town press release below)
TOWN OF MAMMOTH LAKES FILES FOR CHAPTER 9 BANKRUPTCY PROTECTION
Town of Mammoth Lakes, California, July 2, 2012 – At a special meeting on Monday, July 2, 2012, the Mammoth Lakes Town Council voted unanimously to authorize the filing of a petition for relief under Chapter 9 of the Bankruptcy Code in U.S. federal court. Bankruptcy, unfortunately, is the only option that the Town is left with, after its largest creditor, Mammoth Lakes Land Acquisition (MLLA) repeatedly refused to mediate its $43 million judgment against the Town, and obtained a State court order requiring payment of the full judgment by June 30, 2012.
In the past few months, Mammoth Lakes has struggled with two problems:
One – a lack of sufficient revenue to pay its current and anticipated obligations, as evidenced by a $2.7 million initial shortfall in its 2011-2012 fiscal year budget, balanced through painful measures in June 2011, an additional unanticipated shortfall of $0.9 million in the same 2011-2012 fiscal year that forced the Town to reduce its already low available cash, and a projected $2.8 million budget shortfall in its 2012-2013 fiscal year.
Two – a Writ of Mandate issued by a State Court ordering the Town pay a $43 million judgment owed to MLLA by June 30, 2012.
The Town has attempted to deal with both of these problems in a responsible fashion, cutting many services and asking its employees and the majority of its creditors and other parties in interest to take substantial cuts in payment. These negotiations took place in the context of the neutral evaluation process established by the California Government Code (the AB 506 mediation), and concluded on June 29, 2012. The neutral evaluation was conducted by the Hon. David Coar (Ret.), a very experienced and respected former Bankruptcy and U.S. District Court Judge selected by the participants.
The Town has already implemented the cuts it proposed during mediation, in effect breaching many existing contracts. However, based on agreements reached with many of its creditors, these contract breaches will be cured in new agreements, contingent upon either (a) a settlement with MLLA or (b) a Chapter 9 plan confirmation. The Town's creditors and employees were willing to make their concessions as part of a global resolution of the Town's financial challenges; their agreements were not made without reservations, their concessions are part of a global resolution that would allow the Town to move forward in a fiscally responsible manner.
As the Town acts in keeping with these agreements and as they are ultimately consummated, the Town will be able not only to overcome its structural fiscal issues, reflected in the annual budget shortfall, but also free up approximately $500,000 a year that can be used to pay its creditors, including MLLA, over the next 10 years, or to obtain a bond supported by that same payment stream, the proceeds of which will be paid to creditors, including MLLA.
Although invited on multiple occasions, MLLA refused to participate in the AB 506 mediation to discuss settlement or demonstrate to the mediator and the participating creditors that the Town can afford to pay more. As a result, a mediation that might have succeeded in avoiding a Chapter 9 case failed because a crucial party simply refused even to attend and discuss any issues it might have.
The Town will ask the bankruptcy court to process its Chapter 9 case efficiently and quickly. The Town has limited financial resources and cannot afford a long drawn-out case. If the case lasts too long, it will significantly reduce the Town's available funds, necessarily reducing recoveries to the Town's unsecured creditors.
While the Town proceeds with its Chapter 9 bankruptcy case, it will remain open for business as expected, with the support from other governmental agencies:
The Police and Fire Departments, along with other safety partners such as paramedics and Sheriff's office, will provide high levels of response and care;
Road, parks, and airport maintenance services will continue as scheduled;
Town Office business hours and service deliver will continue as usual without interruption of services;
Community services and providers such as Mammoth Hospital, Mammoth Community Water District, and Mono County are separate from the Town and are not impacted.
RESOLUTION ADOPTED BY TOWN COUNCIL –
RESOLUTION NO. ________
A RESOLUTION OF THE TOWN COUNCIL OF THE TOWN OF MAMMOTH LAKES, CALIFORNIA AUTHORIZING THE FILING OF A PETITION UNDER CHAPTER 9 OF THE UNITED STATES BANKRUPTCY CODE
BE IT RESOLVED by the Town Council of the Town of Mammoth Lakes, California as follows:
WHEREAS, the Town Council has determined, after, among other things, taking into consideration: (i) the material it considered as described in the July 2, 2012 special Council meeting agenda bill and as apparent during the public forum today, and (ii) the advice of the Town's staff and attorneys, that a petition for protection under the provisions of chapter 9 of the United States Bankruptcy Code be filed by the Town of Mammoth Lakes.
NOW THEREFORE, BE IT RESOLVED by the Town Council of the Town of Mammoth Lakes that a petition for protection under chapter 9 of the United States Bankruptcy Code shall be filed and the same hereby is approved and adopted in all respects, and the Town Manager, or his designee, is hereby authorized and directed, on behalf of and in the name of the Town of Mammoth Lakes, to execute and verify such petition and to cause the same to be filed with the United States Bankruptcy Court for the Eastern District of California, Sacramento Division.
BE IT FURTHER RESOLVED that the Town Manager and all other appropriate officials and employees of the Town are hereby authorized to execute and file all petitions, schedules, lists, and other papers, and to take any and all actions which they shall deem necessary and proper in connection with said chapter 9 case, and with a view to the successful completion of such case.
APPROVED AND ADOPTED THIS 2nd day of July 2012.
________________________________ Matthew Lehman, Mayor
_________________________________ ATTEST: Jamie Gray, Town Clerk