In spite of parents' petitions and public pleas to keep him, Bishop Football Coach Bill Egan has not been offered a full-time job at Bishop High School. The School Superintendent said he's not sure if the school will have a football coach.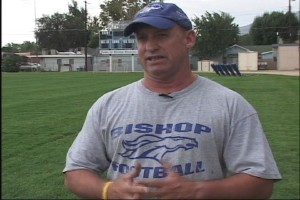 Coach Egan was one of several teachers impacted by state budget cuts. School officials repeat that seniority and credentialing issues have prevented a full-time position for the Coach. New School Superintendent Barry Simpson has tried to work with the school board to keep the popular Coach Egan. Simpson said they were able to offer the Egan an 80% job.
Coach Egan's extensive work with the football team is virtually unpaid, except for a stipend. He is also uncompensated for his work with the school weight room and students. At public meetings and in private discussions, Coach Egan is universally praised as a great benefit to the kids. With his background as U.S. Olympic Team coach and head of Bishops highly successful 8 year football record, Egans popularity has soared.
Superintendent Simpson said he met with Coach Egan about the situation and awaits his word on acceptance of the 80% job. Simpson did say that under a proposal from Playhouse 395, teacher Jeff Pratt could take a one period per day leave of absence to manage the school auditorium and theater. If that happened, Pratt's Social Studies class could go to Egan. More on that at the August school board meeting.
So, for now, Superintendent Simpson said he's not sure if Bishop has a football coach. Of Egan, Simpson said, "I'd love for him to stay. We want him here."