As the economic slump continues, more people in Inyo County have applied for food stamps.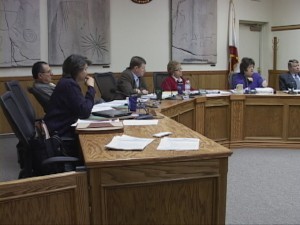 At the Inyo Supervisors meeting Tuesday, Health and Human Services Director Jean Dickenson gave the board an update on social services in Inyo County. With Inyo unemployment at 10.3%, the number of people applying for social services such as Calworks, a welfare program, and food stamps is up.
Each month the county distributes about $150,000 in food stamps to families in need. About $81,000 is paid out for Calworks, Dickenson said.
The number of people collecting Calworks checks remains stable, but the number of families that receive food stamps is up to 618, up from 542 families in January. With 618 families receiving food stamps, about 1300 people are being served, Dickenson explained.
The number of people who receive food stamps does not reflect the number of people who apply for the program. Dickenson says that its common for a family to have too many assets, usually a car, to qualify.
She had recently seen a two-parent family apply for food stamps after the mother had lost her job. The family had two vehicles, but the value of the vehicle made the family ineligible for food stamps. People receiving unemployment checks are also often not eligible because they still have too much income.
One factor in the increase of social services, Dickenson explained, is the fact that people are on the move. Tough times in the state as a whole have led people to move in with friends and family.
The bottom line- demand for social services is expected to continue to go up in Inyo County.