I was asked by one of our listeners to do a food review of Jenny's Cafe in the Town of Independence. So, off I went to this fairly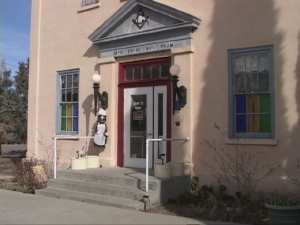 new eatery for lunch. The owner is Jenny Ivey, a local Independence resident. The cafe is located in the historic, Masonic building in the center of town. Upon entering, I was happy to see high ceilings which gave the place a light and airy atmosphere. I started with a homemade BBQ beef sandwich and its own homemade sauce. It included beer-battered onion rings. I thought the beef was very flavorful and tender and the sauce just spicy enough to make it really interesting. The onion rings were light and crispy. Next came made from scratch chicken wings, with homemade refried beans (with hamburger, salsa, grated cheese, sour cream and olives), hot and spicy dipping sauce with homemade tortillas. The chicken was crisp and moist on the inside and the beans were spicy and tender. Then, fresh baked turkey (dark and light meat made daily), homemade stuffing and Yukon mashed potatoes and gravy. The Turkey was very moist and flavorful and the mashed potatoes were just like my mother use to make. Finally, I tried the chicken fried steak which was sirloin steak tenderized twice then battered up and sauted. Boy, light and very tender on the inside and crusty on the outside.
So, if you're interested in a new place to eat and really like quality, home cooked food, I would suggest giving Jenny's Cafe a try. It's located in the center of Independence, on the east side of Main Street. They serve breakfast, lunch and dinner (I want to go back and try their 'bone in' rib eye steak for dinner). Jenny's winter business hours are open every day but Wednesday, from 7 am to 8 pm.