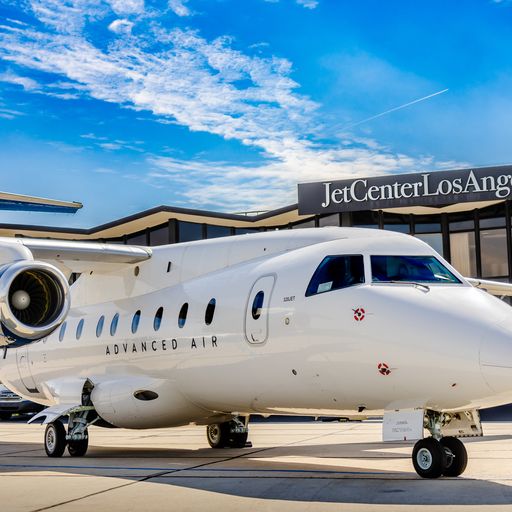 FLY TO MAMMOTH LAKES FROM LOS ANGELES AND SAN DIEGO IN 55-85 MINUTES THIS SUMMER WITH ADVANCED AIR
Local regional airline brings ease, comfort, and convenience to Southern California residents with the return of semi-private flights direct to Mammoth for as low as $182 each way Hawthorne and Mammoth Lakes, CA.
Advanced Air, the Los Angeles-based public charter airline, and Mammoth Lakes Tourism announced today that summer flights direct between Mammoth Lakes and Southern California's Los Angeles and San Diego will resume June 30th – September 4th.
Advanced Air will provide two semi-private flights a week (Fridays and Sundays) straight into the Mammoth Yosemite Airport (MMH) from Hawthorne (HHR) in 55 minutes and Carlsbad (CLD) in 85 minutes. Travelers will fly in and out of private terminals and avoid airport traffic, long security lines and TSA. Free shuttle service will continue to be offered to/from the Hawthorne Municipal Airport for travelers arriving into LAX from an outside destination, providing easy summer access to Mammoth Lakes from anywhere in the world.
"Two years ago, when we began offering direct, semi-private flights from Southern California to Mammoth, we knew there would be a strong demand for an easy, convenient, and quick way to get to the mountains. The response and utilization of our service has exceeded our expectations and been rewarding to witness," said Levi Stockton, Founder & President of Advanced Air. "Southern California has one of the most passionate Mammoth fanbases in the world and we're thrilled to partner with Mammoth Lakes Tourism to bring travelers to one of their favorite summer destinations."
"Summer in Mammoth Lakes is a phenomenal time to visit and with service via Advanced Air, we continue to provide easy access to our most loyal audience, as well as a convenient way for our locals to travel for summer vacations of their own" said Mammoth Lakes Tourism Executive Director, John Urdi.
This marks the second year that Advanced Air and Mammoth Lakes Tourism have provided direct flights between Southern California and Mammoth Lakes. Upcoming summer events in Mammoth include the 4th of July Parade, Bluesapalooza, Mammoth Wine Festival, Mammoth Rocks Music Festival, and Pedalpalooza.
To book tickets, please go to https://advancedairlines.com or call 1-800-393-7035. For more information, follow @advancedairlines  on Instagram and Facebook.
About Advanced Air, LLC
Advanced Air is a world-class, Southern California based, multi-hyphenate aviation company offering a gamut of services including regional commercial service (Advanced Air), private charter, aviation management and corporate travel (Advanced Air Charters) and property management services. It owns and operates out of the award-winning fixed base operator (FBO), Jet Center Los Angeles located in Hawthorne, CA at the Hawthorne Municipal Airport, covering a total of 90 acres and 200,000 square feet of hangar space. Its real estate is commonly used for public and private events and filming.
About Mammoth Lakes
Unreal. There is no better way to describe Mammoth Lakes, California. A place so majestic that breathtaking views surround you in every direction. Where otherworldly landscapes of craters and hot springs and alpine lakes and tufa towers exist side by side. Here, adventure never takes a season off, whether hiking rugged mountain terrain or skiing mind-blowing amounts of powder at 11,053 feet. A wonder of nature, and a wonder why you'd want to be anywhere else. It's all so unreal, we're just happy it's also very real. To learn more go to www.visitmammoth.com.