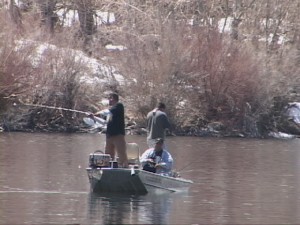 For those into fishing and the Eastern Sierra outdoors, a Friday through Sunday event centered in Mammoth Lakes will cover the Owens River, Hot Creek, Rush Creek, the Walker Basin, the Inyo Forest, trout stocking, and actual fishing.
The Fly Fishing Faire, sponsored by Southwest Council International Federation of Fly Fishers, centers at Cerro Coso College in Mammoth. Event organizers say 500 people are pre-registered for the Faire but walk-ups are expected. Admission is $15 per person and $20 for families with teens 16 and under free. Eastern Sierra residents get a $5 rebate.
Events at or departing from Cerro Coso in Mammoth include a Rush Creek Tour led by the Mono Lake Committee and CalTrout, a Walker Basin Restoration panel discussion, an update on the Inyo National Forest Plan revision and Golden Trout Wilderness grazing allotment, and news on trout stocking, hatcheries and the yellow-legged frog.
Bennett Mintz of the Faire said participants will see fly-fishing films, clinics, workshops, casting demonstrations and fly-tying. He said volunteers and pros, including local fly-fishing guides, will conduct workshops at the college and on nearby waters.
On Saturday participants and all members of the public can join a Clean Up Day in the Mammoth Lakes Basin from 9am to 4pm. Meet at Horseshoe Lake. Sunday, from 8:30am to 11:30am – a Morning at Hot Creek led by Friends of the Inyo. Meet at the Hot Creek Interpretive Center.