For some eight years, the roof over the Mono County Jail has leaked but not like it did Tuesday when fierce rains pounded the Eastern Sierra.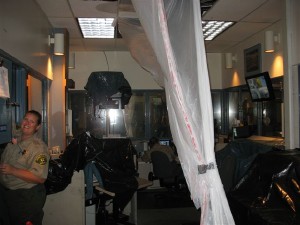 Rudolph Construction crews had started a project to replace the leaky roof. Crews stripped off the old roof down to concrete slabs. Undersheriff Ralph Obenberger said that with storm forecasts in hand, crews tried to cover the exposed roof. Public Works Director Evan Nikirk said crews placed sheets of visqueen over the roof but water found its way into the ceiling and the buildings.
Nikirk said water seeped through light fixtures, sky lights, smoke detectors. Officials made the decision to evacuate the jail. Officers chained up prisoners and walked them, under heavy guard, to Memorial Hall. The courts worked to release around 10 inmates. Undersheriff Obenberger said that Inyo County agreed to take in some 25 inmates. Sheriff units and CHP transported the prisoners to the Independence jail.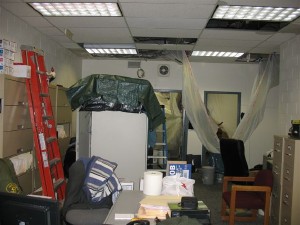 Mono Sheriff Rick Scholl said that as soon as water began to leak into the buildings, his entire staff went to work to protect equipment and records. "The staff did a tremendous job," said Sheriff Scholl. "They covered servers, computers and electronics. The IT department worked to get us back on line." The 911 system did remain operative. The Sheriff said it appears all of the valuable electronic equipment was saved. Staff moved the dispatch center to a dry area of the buildings. "Law enforcement is trained to deal with disasters," said the Sheriff. "We just don't expect it in our own house."
Sheriff Scholl estimated that the jail will remain closed for three weeks for complete clean-up. Two outside companies were called in to help with clean-up now. The State Office of Emergency Services helped with a transport van that will shuttle prisoners from the Inyo County Jail to court in Mammoth or Bridgeport.
For those who have criticized tearing off the jail roof in October, Public Works Director Nikirk said that statistics from the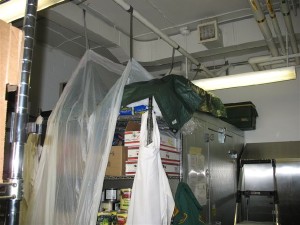 National Weather Service and the Bridgeport Weather Station show that October is on average the lowest precipitation month in Bridgeport.
Other areas around the Eastern Sierra suffered leaks. Mammoth Hospital experienced wet ceilings, leaks and wet carpets but everything remained operational. Some homes in Mammoth Lakes and other towns did have to deal with major leaks under the pounding rain.
(Photos: Courtesy Mono County Sheriff)