Above average snow and rain makes this a dangerously high water year for the Owens Valley and entire Eastern Sierra.  The Inyo Sheriff's Office issue flood prevention tips.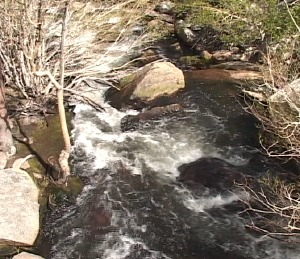 Officials suggest that you remove obstructions from waterways; clear ditches of all plants, rocks and debris; clear overhanging vegetation from your waterways to ensure maximum flow; open pond outflow channels and rem decorative rooks; clean all water screens, gutters and drains; consider draining ponds or lowering levels.
Officials say you can get sandbags from fire departments in Bishop, Big Pine, Independence, Lone Pine and Olancha.  Sand is also available at the Bishop Fire Station at North Sierra Highway and See Vee; the main fire station and at the rear of Bishop City Park.
In Big PIne, you can get sand at Izaak Walton Park and the Saddle club. In Independence, find sand at the jail and in Lone Pine at the sand trap.  If you do know of a flood, report it to the Sheriff's Office with the exact location.  In an emergency, call 911.
Meanwhile, the National Weather Service maintains flood warnings for small creeks and streams in Mono County near Bridgeport, Twin lakes, Lee Vining, June Lake, Tom's Place, Mammoth Lakes, and Crowley.  The weather service said that flooding has been reported in Lee Vining Canyon, along Deadman Creek and in the Mammoth Lakes area near Sherwin and Mammoth Creeks.