Carol Fletcher age 69, was born in Matagorda, TX on September 23, 1946 to parents Gela Packard and Claude Stanley.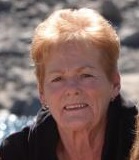 Carol passed away on November 18, 2015 at Renown Hospital in Reno, NV
She married the love of her life Bud Fletcher on December 15, 1969.
Carol is survived by husband of 46 years, Bud Fletcher of Bishop, Daughter Stephanie Fletcher of Bishop and her children Jeffery Kliks and Elizabeth Kliks both of Bishop; Daughter, Michelle West of Las Vegas, NV and her two children: Dylan and Andrew West both of Las Vegas, NV.
Carol and family moved to Bishop in 1988. Carol followed her passion of art and fishing and drawing numerous photos of the Owens Valley. She loved to tie her own flies and take her grandchildren fishing whenever possible. She enjoyed traveling in the RV with Bud and taking cruises. Her love for her family had no end.