When Inyo-Mono Agricultural Commissioner George Milovich presented the Inyo Supervisors with the annual crop report at the board meeting this week, there was good news, bad news, and weird news.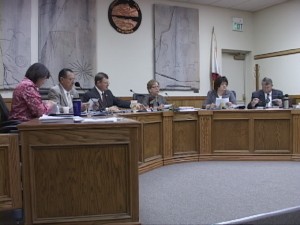 The good was that the value of the livestock, alfalfa, seed garlic, dates from China Ranch and other agricultural output totaled $62 million dollars for 2008, a 10% increase over 2007. Milovich said that this put agriculture as the second biggest industry in the Eastern Sierra. Agriculture is second, but a distant second to tourism, he explained. Ag is food, he said, adding that you cant eat tourism.
The increase in 2008, according to Milovich, was due to a spike in the price of alfalfa. The bad news is that the price of alfalfa had since come, slapping down.
The weird news was that Milovich told the board that the federal Environmental Protection Agency was pushing for a greenhouse gas tax for livestock flatulence. He explained that the EPA would charge a rancher $175 per cow, $68 for swine, and about $40 for sheep.
Once started, the conversation on cow flatulence erupted. Supervisor Linda Arcularius said that the gas tax for cows has to do with getting rid of the cows so that the government gets the land once its worthless.
Supervisor Beverly Brown explained that bison have the same flatulence as cows and there was no problem with the bison historically. The bison started the whole thing, she said and wondered if there were plans for a tax on domestic bison.
Perhaps Milovich was trying to rein in the increasingly strange conversation when he spoke about the non-native pepperweed eradication along the Lower Owens River Project, but the cow tax came up again at least once more before the supervisors officially accepted the 2008 crop report.
When we called the EPA to ask about this gas tax on livestock, spokeswoman Cathy Milbourn stated, "there is no planned tax on livestock emissions. It appears that there may have been a misreading of potential greenhouse gas rules. Milbourne says, the EPA just proposed the first comprehensive national system for reporting emissions of greenhouse gases. No part of this proposal even requires emissions reporting from livestock. She stated,There is no cow tax, period," adding we hope to finally put an end to this erroneous issue.