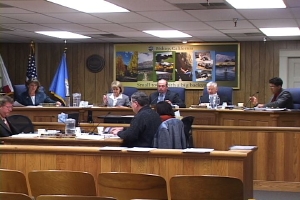 At the deadline Friday, five people had signed up to run for two seats on the Bishop City Council. Candidates include the two incumbents and three citizens.
Councilman Keith Glidewell will seek re-election. Mayor Jim Ellis will also run again. Challenging them are former Bishop Police Chief Joe Pecsi, co-owner of Sage to Summit Karen Schwartz and acupuncturist Howard Wu.
Some of the election issues expected to come up include the Council's one-time look at contracting out for law enforcement and getting rid of the Bishop Police Department, the handling of selection of City Administrator, and lack of tangible progress toward on-the-ground economic development.
City officials had also talked about floating a Transaction and Use Tax on the ballot to bring in additional income. There has also been talk of a Tourism Business Improvement District fee for Bishop. Mammoth Lakes approved that kind of assessment on lodging, restaurant and retail stores to pay for marketing and other uses. These issues too may be part of election debate.
This race will take place in the November 4th General Election. Elected council people will officially be sworn in January 1st. Current and future Councils are expected to continue meeting in budget workshops to search for ways to save money and generate revenue. Although the City currently enjoys a balanced budget, officials say they want to look to the future to make sure operations are stable.