The Inyo Sheriff's Department has asked the public for information related to the vandalism of five vehicles during the evening of October 7th. All five sustained crushed windows and some sustained amage to the hoods.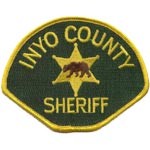 According to Sergeant Andy Marsh, "Physical evidence has been collected from the crime scenes, however to expedite the investigation and potential arrest of the suspect or suspects in this case we are asking for the public's help."
The areas of Lone Pine affected include Burkhardt Street, School Street, Lone Pine Avenue, and North Jackson. Sheriff Bill Lutze has authorized a reward of $200 for anyone who can provide information to the Sheriff's Department that can lead to the arrest and conviction of the suspect or suspects in this case. Officers ask that you call 878-0383 and if necessary, your report may remain anonymous.