The Bishop School District Superintendent and four teachers will retire at the end of this school year. That development did take some pressure off of teacher lay-offs. Even so, 6 teachers did receive preliminary lay-off notice.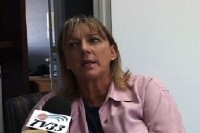 Superintendent Maggie Kingsbury confirmed that she will retire in December. She did not offer any other details. She did confirm what had been publicly announced – the retirement of four Bishop High teachers.
Kingsbury's husband, Bruce, will retire from his position of social studies teacher at Palisade Glacier School. Long-time math teacher Jim Rowbottom will retire. He told us he started teaching 47 years ago. He hopes to continue with instruction at the college.
Also retiring – Special Education teacher at Bishop High, Penney Haynie and woodshop teacher, George Kinney.
Kingsbury said that the 6 pink slips that went out to teachers could change. She believes the May 19th election will impact schools' budgets. Proposition 1A speaks of a rainy day fund and 1B specifically addresses funding to schools. 1C would allow borrowing against lottery futures.
Kingsbury said that whether the measures pass or not, the State will re-do budget figures. If the measures fail, more cuts are likely. The Superintendent said that all of this uncertainty hurts teacher morale.