An accident on West Line Street just before 8 am Thursday morning, that left two people with minor injuries, would have been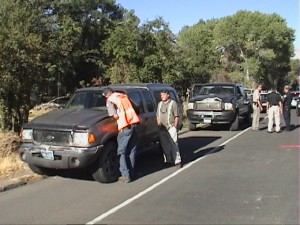 more likely on the busy metropolitan streets of Los Angeles. A five car pile-up resulted when a motorist traveling east on Line street rear ended a vehicle ahead and three more cars collided, one after another, into the accident.
The accident happened just west of the intersection with Pioneer Street, less than a block away from Northern Inyo Hospital.
The responding officer, Sgt. Dave Jepson, said two units from Bishop Police Department and two units from CHP responded to the scene. Symons Ambulance service took the two injured parties to the hospital with minor injuries.
The names of those involved have not been released. When asked, Sgt. Jepson said there was no indication of any substance abuse or gross negligence. The cause of the accident is still pending investigation.
The direction of travel and point at which this accident occurred has a speed limit transition from 45 miles per hour down to 35 miles per hour. Motorists are reminded to adhere to the speed limit and keep a safe following distance at all times, especially during the morning hours when children may be present and on their way to school.