Mono Supervisors and Mammoth Town Council members talked fish with Bruce Kinney, Deputy Regional Manager of the Department of Fish and Game on Tuesday.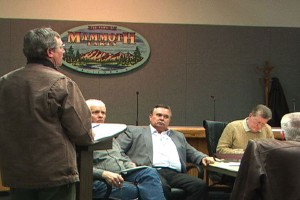 The meeting was a follow-up to a January session, when Kinney was on the hot seat facing pointed questions from elected officials and local business people about DFG's plans for fish stocking this summer.
At that meeting, Kinney was unable to make specific promises as DFG was still trying to deal with the effects of the New Zealand Mud Snail (NZMS) on the Hot Creek Hatchery. With local waters facing another invasive threat in the form of the Quagga Mussel, many feared more bad news but Kinney's report was decidedly upbeat.
Kinney explained what DFG has done to assure that a Mudsnail-positive Hot Creek Hatchery will not affect the stocking of mudsnail-negative waters throughout the County.
Kinney said the DFG has altered traditional production plans by ramping up Fish Springs Hatchery and easing production at Hot Creek. The end result will increase fish allotments by nearly 10%.
Waters that received a glut last year will return to their normal allotments, plus the 10%.
Delivering fish from the Owens Valley instead of Hot Creek comes with additional risks to stocking allotments in the form of mechanical breakdowns. A dilapidated fleet of delivery vehicles is a big problem, Kinney acknowledged, but hopes the vehicles will prove reliable until they can make the capital investments to replace them.
Kinney also reported on efforts to install a filtration system at Hot Creek that would eliminate the threat of the mudsnails. Kinney has found the cost of such a system could reach $20 million, with another $500,000/year maintenance cost.