Whether or not the Victorville man who reportedly shot and killed a bear near Lake Mary will be charged with a crime is still unknown. The man has claimed self defense, according to Forest Service officials. Mammoth Wildlife Officer Steve Searles has called the shooting, unprovoked, but so far Fish and Game officials have not stated whether there is enough evidence of a crime to move ahead with charges.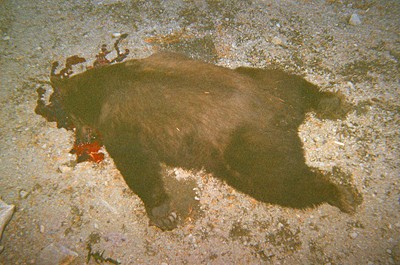 Harry Morse, spokesman for Fish and Game, says that John Baker, the Assistant Chief of Enforcement for the Central Region of DFG is currently reviewing the investigation reports. Fish and Game doesnt file charges, he explained. Thats the job of the Mono District Attorneys Office, Morse says.
According to Morse, the investigation is not complete, but Captain Baker will review the facts and when the investigation is completed, Baker will turn it over to the DA.
Of the incident on September 22nd, Fish and Game officials have said that a male subject was having a picnic with a female companion, when the sow approached. The couple retreated from the 175 pound animal which then proceeded to eat their food. Another unknown person saw what was happening, offered to scare or haze the bear away and did so, according to Fish and Game.
When the bear returned, Fish and Game said, the man went to his vehicle and retrieved a large caliber, pistol and shot the animal from a distance of 20 yards, striking the bear in the head.
This incident has led to highly charged discussions on our website, with many people wondering whether or not the man will be charged for killing the bear, or any additional firearm charges for shooting inside the Town limits.
Morse did not have a known timeframe as to when the investigation would be turned over to the Mono District Attorneys Office. He also would not speculate as to whether or not the District Attorney would file charges given the results of the investigation.