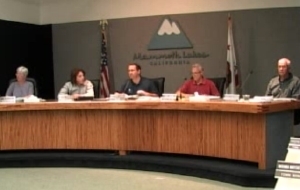 The Mammoth Town Council will recognize outgoing Mayor Matthew Lehman at their meeting Wednesday night. As usual, the Council will reorganize with new officers.
It is expected that Mayor Pro Tem Rick Wood will move into the Mayor's spot, but in Mammoth Lakes nothing is certain until it happens when it comes to the Mayor's position. The Council will also select a new Mayor Pro Tem and make appointments to commissions and committees.
On the Consent Agenda, the Council will consider directing the Town Manager to enter a contract up to $50,000 with the Strategic Marketing Group to "convene, document, and facilitate a series of meetings to develop recommendations for Town Council regarding the potential formation of a Mammoth Lakes Recreation entity."
Another Consent item says the Council may authorize the Town Manager to enter into a local agreement with Mono County for the Main Street/ Highway 203 Undergrounding Project.
Also on the agenda – a public hearing to adopt the Fiscal Year 2013-2014 budget. And, under policy matters, the Council will hear an appeal of past due Transient Occupancy Taxes, penalties and interest by James Kaviani regarding a home at 275 John Muir.