A group of local ranchers gathered at Whiskey Creek restaurant in Bishop Monday to hear about a proposal to bring local cows to local markets.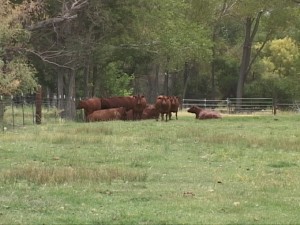 Inyo/Mono Agricultural Commissioner George Milovich and Inyo County Administrator Kevin Carunchio worked to get a US Department of Agriculture grant to look into the feasibility of a natural livestock industry. A consultant was brought in to see what might work here in the Eastern Sierra.
At the meeting Monday, Jeff Schahczenski with a group called the National Sustainable Agriculture Information Service, explained the processes that would be involved to raise what could be officially certified as grass fed beef or organic beef.
Local cattle are grass fed until they are shipped off to become Harris Ranch Beef. One idea up for discussion was a $2 million truck-mounted mobile processing plant that could allow local beef to be inspected, packaged and sold locally.
The ideas are all in the very rough stage. Schahczenski was there basically to give the producers an idea about what it would take to market grass fed or organic beef and gauge the interest of local ranchers. Marketing or creating an Eastern Sierra brand was another option thrown on the table.
The issue will likely come down to a cost benefit analysis as ranchers have to decide whether the increase in costs involved to certify organic or grass fed beef, or the creation of brand, are outweighed by profit to be gained by selling the product in this manner.
The meeting Monday was designed to test the waters to see if the local producers were interested. The second workshop, scheduled for January 7th, is to see if local consumers are interested.