Smokey skies continue on and off here in the Eastern Sierra as the La Brea fire burns near Santa Barbara and Santa Maria. Now officials say that the 88,000 acre fire was started in the camp of a hidden marijuana farm.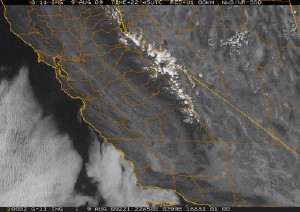 That public lands are being used to grow millions of marijuana plants each year in California is not new information. The impacts of people living on these cultivation sites for months on end, the use of fertilizers, irrigation and landscaping are well documented. On the La Brea Fire, investigators say that the blaze was caused by a cooking fire at "an illegal marijuana drug trafficking operation within the forest."
Over 1700 fire fighters are now at work on the La Brea Fire, which is listed at 75% contained. The fire started Sunday and has already spread to 88,650 acres in size.
Other smaller fires continue to burn closer to home. The Lion Complex, made up of multiple fires on the Sequoia National Forest, has been burning slowly since June. The fires are mostly contained but are expected to continue to burn patches.
There is also the 800 acre Hart Fire slowly burning in Sequoia Kings Canyon National Park. The wildcat fire smolders in Yosemite National Park and the Black Jack Fire continues to burn above Division Creek here in the Eastern Sierra.
Depending on the wind, these fires are expected to continue to send smoke on and off through our towns.