The quick action of a young man staying with family and friends in a Mammoth Creek Condo unit drew attention to a fire and brought help just after midnight.
Mammoth Fire Marshall Thom Heller said that the occupants of the condo had started a fire in the fireplace earlier in the evening. Later they saw a blackened area on top of the white brick on the front side of the fireplace. One man saw smoke come out from around the exhaust duct and a glow behind some boards.
That man, an explorer with Orange County Fire, grabbed buckets of water and opened the sliding glass door next to the fireplace. He kept pouring water and ordered someone to call 911. The Mammoth Fire Department arrived in 5 minutes and saw a wall of fire leaping up from the unit over the roof. Firefighters quickly put out the blaze. A reported $100,000 of damage was done to the condo deck and chimney chase.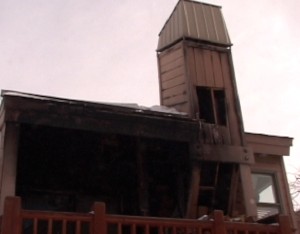 Heller said it was determined that the cause of the fire was related to the EPA certified insert installed inside the old fireplace box. Heller said that the insert burns at a much hotter temperature which caused some of the combustible material in the original fireplace box to catch fire. Heller said plywood in the fireplace installation had combusted.
Heller said Mammoth Fire Department will write a letter to the Mammoth Creek Condo owners to tell them about the cause of the fire and factors that led to it.
If you have any questions about such installations and fire prevention, call Mammoth Fire Department at 934-2300.