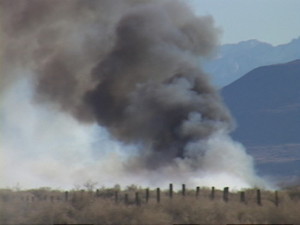 In the early afternoon Sunday as the wind picked up, fire broke out in heavy brush east of the Owens River and south of Warm Springs Road just south of Bishop.  A huge plume of smoke was visible from Highway 395, and the Bishop Volunteer Fire Department rushed to the scene. Eventually, firefighters from many towns in Inyo and Mono fought this fire.
Bishop Fire Chief Ray Seguine could be heard on the police scanner saying that it looked like ten acres and growing as he found the origin of the fire off a winding dirt road that led south off of Warm Springs Road.  At one point authorities said the fire had the potential to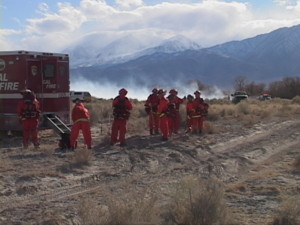 grow to a couple of hundred acres, considering the fuels, the high wind, and the rate of spread.
Fire fighters from Cal Fire turned up quickly and so did units from Big Pine.  Independence Volunteers were called on for mutual aid.  At one point, officials said at least five agencies were fighting the fire from Independence in the south to Mammoth Lakes in the north.
By 4pm, it sounded like the forward movement of the fire was slowed down but crews kept up the work. At that point, officials estimated that the fire had burned some 40 acres. Units of the Inyo Sheriff stood by at the scene.