Residents of southern Inyo and visitors still glance nervously at the
Sierra and its foothills north of Independence where smoke still creeps
through the rocks – proof that fire still burns somewhere. It's the
Inyo Complex Fire which has burned more than 35,000 acres.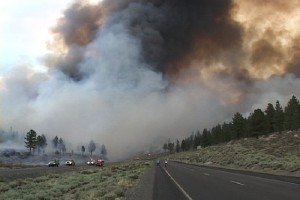 Officials report that firefighters continue to make excellent progress
to get the fire completely out. The fire has reached 80% containment.
As a result, fire personnel now number just 145. At the peak of the
fires, more than 1100 worked on it. The remaining fires high in the
Sierra will burn themselves out, according to officials, but they will
monitor the action.
Agencies say that a Burned Area Emergency Rehabilitation team is on the fire line to provide rehab to the burned areas.
The Inyo Supervisors also announced that Governor Scharzenegger
has issued a Proclamation of a State Emergency in Inyo County as a
result of the Inyo Compelx Fire. This proclamation will lead to
disaster recovery funding for Inyo, although it is not known how much
or for what purposes.
And, in the north, the June Fire now stands at 100% contained at
680 acres. Lightning sparked the June Fire on Tuesday north of the June
Lake Junction. Authorities closed the highway for a day or so.
Officials said that a lot of fire suppression equipment remains on or
next to the highway, so they ask that you travel through cautiously.
176 people remained assigned to the June Fire. They will continue with mop up activities.