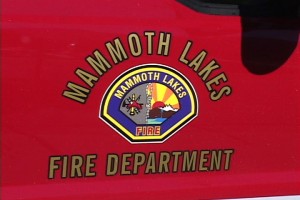 Fire Is Everyone's Fight  (Press Release from Mammoth Fire Division Chief Thom Heller)
Mammoth Lakes Fire Department would like to take this opportunity during National Fire Prevention Week (October 6-12) to urge all community members to replace batteries in smoke alarms, make sure that all heating appliances are ready for winter operation, and to practice a family escape plan.  Across the United States, 83% of all fire related fatalities occur in family residences.  Make your residence as fire safe as possible.
Build layers of fire safety in your home.  Smoke alarms provide an early warning of a potentially deadly fire and can reduce the risk of dying from a fire in your home.  Have alarms on every floor of your home, along with alarms in each of your bedrooms (within three feet of the door) and in hallways leading to bedrooms.  Install a mix of both ionization and photoelectric smoke alarms throughout the home as both work on different technology.  Replace the batteries in the alarms to ensure that the alarms will work should the need arise.  About two-thirds of fire deaths occur in homes with no smoke alarms or smoke alarms that don't work.
Now is the time to check all heating appliances for fire safety prior to operation.  Check clearances around all heating appliances to ensure adequate space; Three feet of clearance is adequate to all combustibles.  Have fireplace flues and chimneys inspected for leakage and blockage from creosote or debris.  Make plans to store fireplace ashes in a fire-resistant container with a tight fitting lid.  Keep the container outdoors and away from combustibles.  Dispose of ashes carefully, waiting until completely cold before discarding.  For electrical appliances, check the wiring to ensure that cords are not frayed.
Development of a fire escape plan is an essential part of being prepared to act and get out quickly if a fire occurs.  Remember that every second counts, so you and your family must always be prepared.  The fire escape plan should identify two ways out of every room and a family meeting place once outside.  Teach children how to escape on their own incase a parent is not available to help them.  Practice your plan at least twice a year, including having all family members hear what your smoke alarms actually sound like.  Once outside, stay out!  During the winter in Mammoth Lakes, it is a requirement that all bedroom windows be accessible so that this can provide secondary egress from the bedroom.
If you have any questions about these or any other fire related matter, please feel free to contact the Fire Department at your convenience at 760 934-2300.