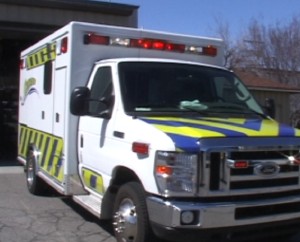 When Medicare payments for ambulance service dropped by nearly a third, Symons Ambulance in Bishop had to give up their second, back-up ambulance. Now, emergency service providers want to look at options for additional service.
Judd Symons had earlier explained that the $100,000 loss in Medicare reimbursements would put a halt to his back-up ambulance – a loss he was reluctant to accept.
Since that time, Bishop Fire volunteers has responded to emergency calls in an assist mode. Bishop fire Chief Ray Seguine said that the Bishop Rural Fire Protection District will meet with the Bishop City Council next Monday to talk about the options.
Chief Seguine said that those options include status quo, development of a Basic Life Support unit under the fire department, or a contract with Symons Ambulance for a Basic Life Unit.
Seguine said statewide it's tough to get volunteers to do EMS work with all of the training, certification and expense. The Fire Chief said, "We want to provide the best service we can."
This discussion with the Bishop City Council happens Monday, November 22nd at 4pm at Bishop City Hall.