Saturday fire broke out in the Five Bridges area 5 miles northeast of Bishop. In such a dry year, fears came to the forefront that this fire could spread very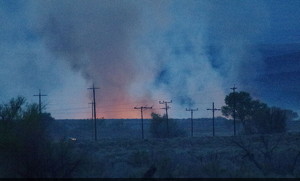 rapidly. Units from all over the Eastern Sierra responded. At last word the fire had burned 113 acres and was expected to be contained Tuesday.
The cause of the fire remained under investigation. On Sunday, the fire stood at 75% containment with firefighters continuing to build a containment line around the edge of the fire. They worked hard to mop up hot spots in the fire area.
Seven agencies responded with 141 personnel, 7 fire engines, 1 bulldozer, 1 water tender, and 8 airplanes or choppers. These agencies responded – Cal Fire, Bishop Fire Department, Inyo National Forest, Los Angeles Department of Water and Power, Bureau of Land Management, California Highway Patrol, and Inyo Sheriff.
Cal Fire spokesmen said wind influenced the fire and had shifted directions several times. Division Chief Paul Melendrez said that campers and those recreating outdoors need to consider the "end results of their activities such as abandoning campfires which can then spread if wind comes up. Plus," he said, "we're in the third year of a drought." Melendrez said the concern is for the safety of citizens and firefighters.