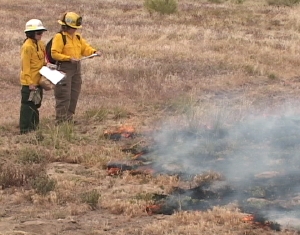 How to tell the origin of a fire – that's what local and agency firefighters will study this week in the Eastern Sierra. The classroom time happened at the Mammoth Lakes Fire Department with hands on work at fire training plots in Bishop off East Line Street on South Airport Road.
The Fire Origin and Cause Determination class is conducted through a grant from the BLM for local fire departments. The purpose of the training is to provide local agencies with wildland fire investigation techniques and knowledge.
Taking part in the training are Mammoth Fire Department, Calfire, Los Angeles Fire Department, the Forest Service, BLM, Mpno County Sheriff, local District Attorneys and several other fire departments from out of the area.
Smoke may be seen in Bishop near East Line and Airport Road.